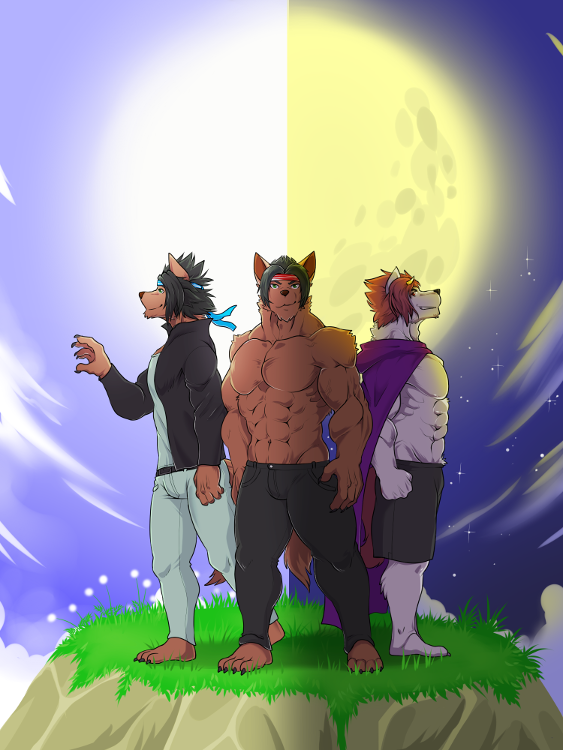 Broken Chains
A downloadable game for Windows
Tatsuo has always been a strong willed war hound, his entire life has been dedicated to forging his mind and body into a well polished weapon, the likes of which can defeat scores of monsters and humans alike. His twin on the other paw...is his exact opposite. Akio is a gentle war hound who only wants to bring happiness to others, yet in this kind of world that is somewhat hard to do as blood and fire are often spilled all around beastmen such as himself and his brother. Not helping matters is the demon which terrorizes them in an attempt to corrupt their flesh and souls for its own twisted amusement.
And now the twins are about to come face to face with a demonic plot...the likes of which will forever change both them and the world in which they live. ..unless they can break the chains of fate which are tightly wrapping themselves around them.
Install instructions
Hello,
This RPG Maker MV project that I am working on is currently within the early stages of development. With that in mind, I wanted to share a semi-teaser for what to expect from the full game. You can learn more about my plans on my patreon:
https://www.patreon.com/user?u=256015
I hope you have a lot of fun and will support me in my endeavors to make this game a huge success!
- - - - - -
Controls - Field
Directional Keys - Move the player
Enter Button - To Select Objects
Esc Button - To Bring Up the Menu
Controls - Battle
Directional Keys - Move the selection within the menu
Enter Button - To Select a Command
Esc Button - To Retreat from a Command Window
- - - - - -
Version 1.0v
Story continues pass the prologue towards the first continent.
Davu Island Quests -
Cure Tatsuo's injuries with holy herb.
Find and disrupt cause behind monsters attacking Davu Island at night.
Side Quest:
Find and defeat Jeweled Crab for a local.
++
South Alemana Quests-
Defeat bandits controlling Port Dolphin's Peek.
Clear out bandits from tower before they can launch a counter assault.
Find the 'treasure' of the land in order to sate a deal with a devil.
Side Quests:
Help free a mage from bandits.
Remove a lionbird from a local ranch.
If there are any problems, concerns, errors, do let me know!
Comments
Log in with itch.io to leave a comment.
I am stuck.I dont know if it is a bug but when I finish the tower,then I talk to Mike and then to the INN to the bar and came back to the bed and nothing happens. Pls i need some guidence ty very much.
I love the game and the story really good. Have a nice day.
im stuck their two and ive restarted over and i sill get stuck
Can you post a screenshot, since I'm not sure what you mean.
Any plans on making an android version?
I really love the game so far! What is the Angel Feather used for? Also who's the character on the left?
id assume the main characters brother. im not sure but i think so.
Sorry that I didn't get back to you sooner.
That's Akio, the younger twin brother.
Sorry I meant the one on the right! I haven't met him ingame yet, so I was wondering if we will see him later?
the game isreally impressive i love it :)
I'll update it against next month!
As Usual Gameplay Footage from Z9ZGAMES Channel!!!
With All Thanks to the Creator of the Game!!!
i just Finished with what you have made it up to and i really enjoyed it i hope you do more soon its good :)
Hey,
I'll do what I can in the following weeks.
My plan is to have one update per game per month!
Hopefully that will work out as planned.
I'm glad you enjoyed yourself.
i'm glad and i can tell you had fun making this so as long as you keep having fun with it i bet a lot more people will play it :)
is there another way to download the game? becaused when i tried it said failed or forbidden
Not just yet.
I'm going to update the game this week, and so please hold tight until I do.
i'm looking forward to it then thanks for replying